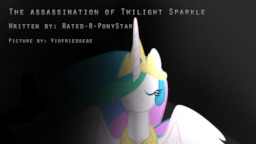 Source
One year after her coronation, Princess Twilight Sparkle is dead, killed by her own subjects out of fear and jealously. After the funeral, Princess Celestia isolated herself from the world, mourning the loss of her brightest student and daughter figure.
But she cannot weep forever. She must take control of her duties once more. Haunted by the memories of the assassination, and its aftermath, Celestia slowly makes her way to Twilight's resting place to find some closure.
Now With its own TV Tropes Page!
Chapters (4)