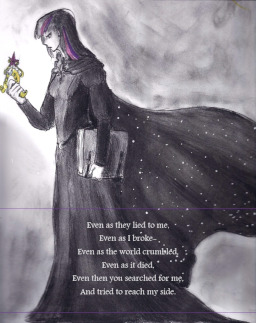 Source
This story is a sequel to What Have You Done?
---
Chrysalis, the Changeling Queen, has taken her prize, unhindered by Equestria's precious heroes. Celestia is little more than another prisoner of war now. The Bearers of the Elements of Harmony are lost, and the Elements themselves have turned away from Equestria's plight. As the world they once knew begins to crumble, a single question is asked among the people as they look up at their fallen heroes.
It is no longer the question that needs to be asked, however.
It is no longer about what has been done, but what must be done now.
There is no such thing as "miserably ever after," for someone will always be fighting for things to change. Hope doesn't die just because someone's turned off the lights. Truth doesn't vanish when deceit begins its reign, and Harmony can only shine brighter among chaos.
Even as this world falls, we'll work to build it up again.
Even as you lose yourself, you can find greater things within you.
Even as fear rises up like a tidal wave, we'll forge a sanctuary to stand against it.
Even as you break, someone will always be standing there next to you to carry you through it.
And even if this entire broken world stands against me, as long as you do not give up, I will find my way back to you.
---
Cover art is by Odin-odin.
Story theme (Equestria in Grey) is by Omnipony.
Main Characters are Twilight, Velvet, Discord, Nightlight, Luna, and Chrysalis, in that order.
See you in the comments, my dear readers.
Chapters (3)