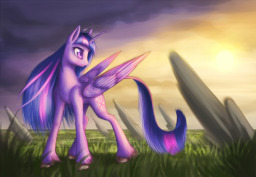 Source
Banishment.
Such a powerful word with such a simple meaning. A word most ponies never hear in their life...
"Twilight Sparkle,"
A simple word meaning to be sent away as a form of punishment...
"You have been proven guilty,"
But I haven't done anything wrong, have I? Anything to deserve to be punished? Being framed? Is that a crime?
"You are banished from Equestria,"
Why would they all just give up on me? I know the truth, but they refuse to hear it. Why won't they just listen?
"You are required to leave at once."
Just listen.
Before war overtakes us all.
---
Featured-- 3/5/14
Give cover art respect where it is due, meaning this guy.
Chapters (2)