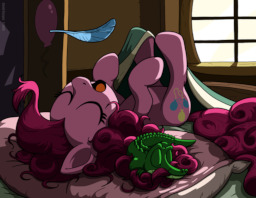 Source
(Fan Written) Sequel to He'll Never Leave Me
When Pinkie woke up, Gummy was gone. He'd been acting so strange lately- Heck, everybody had been acting strange... And now he's just disappeared without a trace.
Pinkie immediately goes on a mad search to find her lost pet, and in the process, might discover a truth she didn't want to face.
Edited by SkeeterTheLurker, and partially written through a conversation with Twilight Mercer and Creepypasta Pinkamena, two awesome people who gave me that last push needed to write this.
Chapters (2)