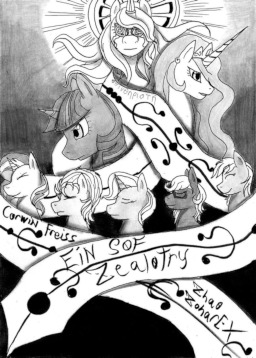 Source
EDIT: Please note, the original story will not be continued, please refer to this blog post for updates on the future of the project.
---
Twilight Sparkle has never felt so lonely. After what happened at her brother's wedding rehearsal she can't but question her friends' worth, and once she starts doubting one part of her life, second thoughts about the rest soon follow.
Some dilemmas can't be solved alone, but luckily for her they don't have to be as she meets an unusual new friend who encourages her to "go another route" and help her purge the very sin that Twilight experienced from this world.
Now, she works towards a new goal. Pretending nothing had changed she goes on with her everyday life, but secretly gathers new allies for her cause. Finding them is however just the beginning.
---
This is an alternate storyline that takes place during season 3, starting from the season 2 finale. This story assumes you are caught up with the show at these points. If you have not watched the season 2 finale or season 3, I suggest you watch those or at least read a summery before reading this story. This project ignores season 4 and Rainbow Rocks.
---
Special thanks to Corwin Freiss, former co-author of the original story.
Chapters (32)