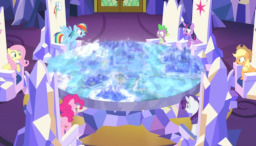 Source
Twilight and her friends know the routine. The Cutie Map summons one or more of them by making their cutie marks glow and flash. They come to the castle to answer the summons then depart to some distant part of Equestria to solve a friendship problem. They've all done it many times before.
But whose cutie mark is that? It's not anypony in Ponyville. Or anypony Twilight's friends have met.
What's a pony to do when one morning their cutie mark starts glowing, and they have no idea why?
Chapters (1)