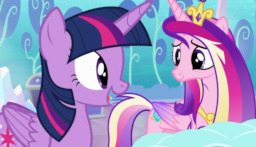 Everyone needs time to breathe now and again, and the princesses are no different. Cadence was happy to use a request to speak at the School of Friendship as an excuse to get in a relaxing mini-vacation in Ponyville.
The issue with that plan was using "relaxing" and "Ponyville" in the same sentence.
Set in Season 8, just before "On the Road to Friendship." Rated Teen for references to alcohol, violence, and certain biological functions.
Chapters (1)