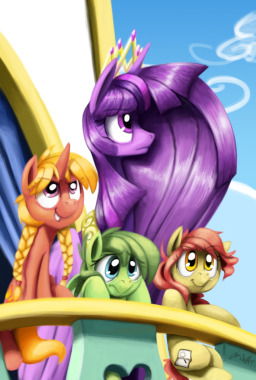 Source
This story is a sequel to Princess Twilight Sparkle's 500th Birthday
---
Five years have passed since the events of that fateful morning. Smarty Pants and her friends set off on an adventure of a lifetime to discover the secrets of the past when they awaken a… oh wait, that would be spoiling it!
Many questions from the first story will be answered! New questions will arise. Lunch will be had, pies will be thrown, blood will be kept inside bodies because seriously, ew blood, you guys.
---
Notes:
- Cover art commissioned by HAK2. Check out his other stuff, too.
- This is a story in the Birthdayverse.
- This story was written and completed (except for the epilogue) before Season 4 of MLP:FiM aired.
- Many thanks to my faithful Pre-Reader and all around super-duper best pony, Blood Lord go read his story, too!
Chapters (17)