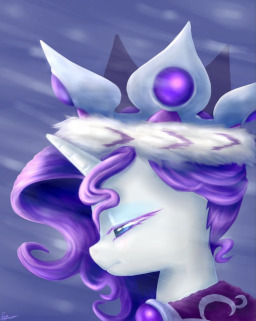 This story is a sequel to Empress Rarity's 250th Birthday
---
"We are friends, are we not?"
The Empress' two hundred and fifty-first birthday is just a few days away, yet there is little cause for celebration as Rarity's Empire is crumbling before her eyes. Bad luck somehow meets her at every turn, and there's a grim shadow looming over any hope for her nation and her crystal ponies. With a powerful darkness locked within her own mind, will the voices in her nightmares tear her apart? Or can she learn to rely on those she once called friends before it's too late?
---
Welcome to the sequel to Empress Rarity's 250th Birthday.
This story was designed with new and old readers in mind. I have made sure to carefully place information to touch on the important facts to remind those that had read the first book of what happened, and to let new readers know what is going on in this one. Not everything is going to be explained from the last book at once, but it will be eventually covered.
So it is not necessarily a requirement to read Empress Rarity's 250th Birthday, but it is highly recommended.
The group for the story: Birthdayverse.
Credit goes to Autumnschild for the editing.
Cover art is done by, and belongs to ifthemainecoon.
Chapters (7)