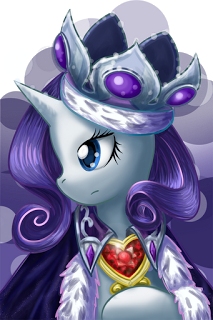 "The pieces are set, and the dice are in play. But does every pony have the heart for this day?"
Nearly two hundred years have passed since Rarity Belle merged with the Crystal Heart and took the throne of the Crystal Empire. Since then, through her care, determination, and vision, the Empire has flourished like never before. Now Empress Rarity stands as not a ruler of a providence, but the monarch of a rising superpower.
Today though, is the Empress' Birthday, and Lady Merry Sapphire, seneschal to the Empress, is determined to make this the best birthday Rarity has ever had. Little does she know that not everypony shares her enthusiasm for today...
---
Notes:
This is an official prequel to the Princess Twilight Sparkle's Birthday stories, created by Autumnschild. This story will develop and expand much of the world we made, but taking place 250 years before PTS500 and its sequel, PTS505. Due to its time gap and status as a prequel, you do not need to read the stories created by Autumnschild, and I have done my best to help that. However, knowing what happened in them will help you be a bit more aware of what is going on, and I encourage you to go read them for they are very enjoyable.
We now have our own group! Come check out the Birthdayverse!
Credit goes to Autumnschild for the proofreading for this story.
Razalon The Lizardman is credited for the grammatical overhaul.
Great thanks goes to these two, for this story would not be as good without them.
Chapters (17)