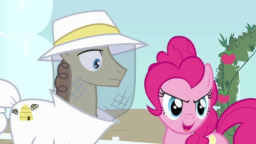 The name's Burt. Just Burt. I'm one of the local apiarists here in Ponyville, meaning I sell bees and bee products. You know, stuff like beeswax, honey, pollen, and royal jelly. I just moved in a few months ago, and so far I have to say life around here is pretty good.
Now if only I could figure out what these mares are doing with my bees, I'd be golden.
---
This is the first in a series of standalone stories for background ponies from MLP:FIM Season 4.
First up: The beekeeper stallion from Castle Mane-ia, whom I've named Burt. Because reasons. This story starts off right where we left Burt after he got his bees back from three very silly mares.
Comments and critiques are appreciated.
Chapters (1)