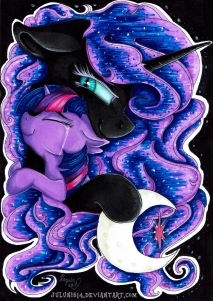 Nightmare Moon is alone and wishes to have a daughter to share her kingdom on the moon with. Twilight is alone and wishes to have a mother that will love her. What happens when their wishes are granted? Read and find out.
---
Russian Translation for the story here. Thankyou NovemberDragon for doing the translation you are awesome.
---
So let's just turn this into a meme why don't we? Filly Twilight adopted by Villian X! I don't know I saw the ones with Daybreaker and Chrysalis and thought, "Oh what the hell I'll do it too because it's fun!" So here I am bringing you a story in a similar vein. Please enjoy the story and CONSTRUCTIVE criticism is welcome. If you are going to downvote tell me why you did so I can improve. (Unless you're being an a**hole than I don't want you here.)
---
Featured on 7/10/18
Day one featured! That's awesome thank you all!
---
HOLLY S**T DAY ONE AND MY STORY IS CONSIDERED HOT! THIS IS AMAZING THANK YOU ALL SO MUCH!!!
---
Thank you Julunis14 for the amazing cover art! Go give her some love she really deserves it!
Chapters (1)