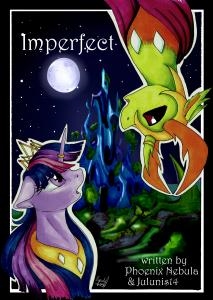 ---
IMPORTANT: THE STORY HAS BEEN CANCELED DUE TO ME AND Julunis14 HAVING A FALLING OUT I'M REALLY SORRY.
---
After the leaders of Equestria were kidnaped the Canterlot Nobility were enraged. They now are demanding the subjugation of the changelings, whether peacefully or by force. In a desperate attempt to keep the peace Celestia must make a difficult decision. A decision that will change the life of her former student forever.
---
NEW STORY! And this time co-wrote with the amazing Julunis! Please go over to her channel and show her some love! This story was originally her's and the artwork is also done by her!
And thank you to Wokarian and Princess_Nika_xx for pre-reading and editing!
I hope you all enjoy the story!
---
Edit: Featured on the front page on 5/25/2018
---
Prologue rewritten on 5/26/2018
Chapters (6)