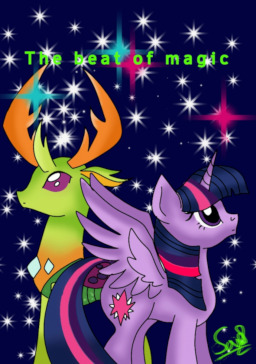 Twilight Sparkle was always dedicated to studying, and as a foal, she always loved the legends and stories of the old and ancient unicorns.
One in particular, she always loved, because it just felt so right when she looked at it.
The book she got the story from was called "To find a Soulmate".
Legends say that unicorns or and alicorns can feel their soulmates magic from miles away.
It's supposed to be quiet, in the back of your mind, you're so used to it, you don't even acknowledge it.
Until you meet them , of course.
The feeling is supposed to get 100 times stronger, so strong, in fact, it's as if you had a second heart.
Twilight dreamed of the day she would meet her soulmate , but she didn't think she actually would.
She didn't even except the fact that he was not a pony at all.
PS. yeah, I made the cover image-
Chapters (3)