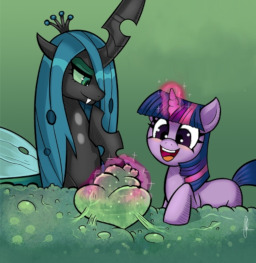 This story is a sequel to Hard Chitin and Soft Fur
---
Chrysalis has a small purple filly named Twilight in her castle, and it looks as if she's going to be adopting her for a long while. Can Twilight's love change her, or even the entire hive?
Only time will tell, though Chrysalis is determined that she could never find something so fuzzy and energetic in any way cute.
---
A sequel by popular demand! Rated T so I have a little flexibility with language and the like, but for the most part I imagine things will be very light and non-explicit.
Chapters (1)