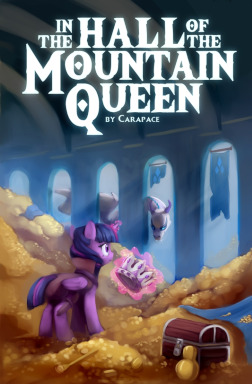 Source
For centuries, ponykind thought Princess Platinum's splendorous silver crown lost for all time, but it has been found. Twilight Sparkle, the self-proclaimed Princess of Thieves, has tracked it down to the long-fallen Diamond Dog kingdom of Erebark, and means to enter the mountain to retrieve her kin's lost heirloom and settle scores with Princess Celestia.
Unfortunately, there are one or two details she didn't realize going into this mess. Namely, that she'll need to steal from the gilded gallery of one of the mightiest dragons ever to walk the land.
Oops.
Preread by RossbyWaves, Cynewulf, Timaeus, Undome Tinwe, Brasta Septim, and Beltorn.
Special thanks to the aforementioned six for enabling and encouraging this story, along with a few other friends in the most exalted and dedicated purple girlfriends chat server.
Artwork brilliantly done by Lilfunkman.
Chapters (1)