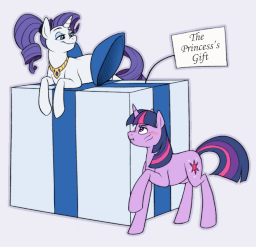 Source
This story is a sequel to The Princess's Choice
---
Princess Rarity had everything planned for her beloved bodyguard's birthday. It would start with a lovely trip to Trottingham, continue into an entire day in Equestria's oldest library, and culminate into a wonderfully romantic moment in the Ethereal Gardens. It would be Twilight's best birthday yet!
...If only things actually went according to plan.
---
Part of the Bodyguard!AU Series, based on Earthsong9405's AU where Twilight is the bodyguard to a "Princess/Queen Rarity". Prior knowledge of the AU is not necessary to read the story.
Chapters (2)