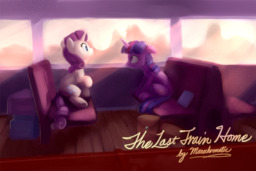 Source
This story is a prequel to Injuring Eternity.
---
Life is like a train ride, don't you think, dearest? The tracks have been set, destination picked and the ticket is well in hoof. What a shame that so many, myself included, are so focused on the destination that they fail to realize a universal truth.
Destinations will change, trains will be caught and missed, but there will always be somepony willing to journey with you—so long as you let them.
---
Thanks to the amazing lilfunkman for the gorgeous cover art.
Chapters (9)