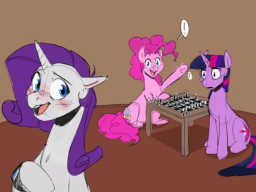 Source
It is Equestrian tradition that, when a pony comes of a certain age, they are given a magic timer that counts down the days until they're destined to meet their soulmate. Rarity was very excited the day she got hers.
She just hadn't expected it would be counting up.
---
Short ficlet based on a prompt I got on my Tumblr blog. Original prompt was to write a drabble set in a universe where "timers are set on the wrist of every person once they are a certain age, slowly counting down until the day they meet their soulmate".
Cover art by Maximasmac !
Chapters (1)