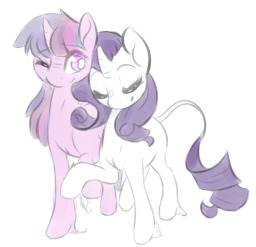 Source
This story is a sequel to The Art of the Blade
---
Official visits to Trottingham tended to be anything but exciting for Princess Rarity. She'd spend the entire week stuck in her room, trying to somehow keep herself entertained while running away from the unwanted advances of the local nobles.
Then again, what better way to add excitement to the trip than convincing her bodyguard to join her on an illicit exploration of the city?
---
Part of the Bodyguard!AU Series, based on Earthsong9405's AU where Twilight is the bodyguard to a "Princess/Queen Rarity". Prior knowledge of the AU is not necessary to read the story. // Cover art by Togekissjpg!

Chapters (1)