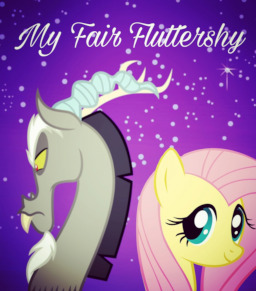 Discord was known to be the best phonetics professor in Canterlot. Upon meeting a Cockney mare named Fluttershy, he is repulsed by her horrible accent and mannerisms. A stallion by the name Fancy Pants placed a bet with him if he could turn the flower filly into a lady fit to attend the Grand Galloping Gala.
But Discord had his own secret, hidden away by his pony disguise. Will Fluttershy be the first to know his secret?
What will become of Fluttershy? Does Discord fail, or does he succeed in turning Fluttershy into a mare to be envied?
*Based on the musical My Fair Lady
*Contains ships Discord x Fluttershy and Fancy Pants x Rarity.
Chapters (2)