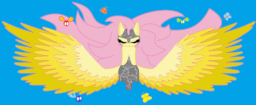 The current cover art was done by Alyssa Hartwick , who offered to draw one for this story.
A story of knights and a serpentine chimeric beast who has turned it's back to ponykind. That is, until he meets a strange kind of knight. She's different from the rest, and bears no evil intent towards him.
Fluttershy, a knight and friend of Rainbow Dash in the medieval ages where Dragons didn't migrate quite so often, and nopony knew of the ways and mannerisms of the other magical creatures that inhabited their world.
a knight falls for a monster, and is plunged through a world known only in fairy tales to us today. All because of a betrayal, a misunderstanding and a dangerous love.
For this is a story about Flutter Knight!
Chapters (5)