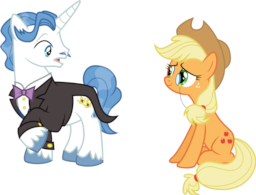 Source
After a passionate, year long relationship comes to a rather dispassionate end, Fancypants, and Fleur de Lis each decide that they could use some time away from Canterlot and each other, each independently choose to stay with a friend in Ponyville.
While there, Fancy finds himself falling for a mare he barely knows after her friend accidentally kicks an apple at his horn and sends him to the hospital, while the friend Fleur is staying with, a shy yellow pegasus, finds herself being drawn to her.
My entry for the Unloved Couples' Writing contest. Also an experiment in writing two pairings at once.
Chapters (5)