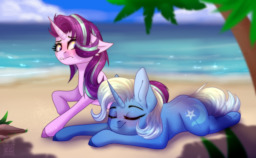 Source
After a mishap with yet another teleportation spell, Trixie and Starlight Glimmer find themselves on an island in the middle of the ocean with no magical energy left—which means no magic until they recover.
Starlight is sure that this is all Trixie's fault. Trixie is sure that Starlight needs to lighten up.
A story commissioned by shortskirtsandexplosions.
With a fully voiced reading produced by ObabScribbler
Chapters (1)