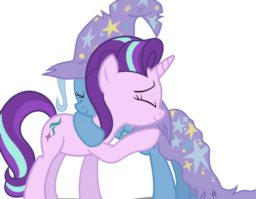 Trixie tries to flirt with Starlight, and doesn't take it well when Starlight reveals that she knew about it all along. Now Starlight has to find a way to make Trixie feel better and admit her own true feelings.
Using a metaphor to do it? Sure, why not?
Originally written as a short one-shot for this story: https://www.fimfiction.net/story/373317/you-ship-it-i-write-it. When the chapter got too long I decided to just post it as a separate story. Thanks to Butterscotch Moonglow for the prompt!
Chapters (1)