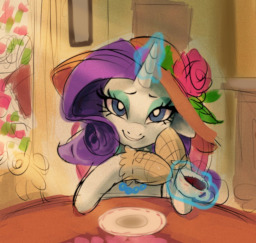 Source
Jake, a new arrival to Equestria, finds himself roped into a high tea with Princess Celestia and a group of snobby nobles. The lunch is boring, the tea is boring, and the nobles are boring. Celestia gives Jake an out, and he takes it, braving a final conversation with one 'Lady Rarity' in the hopes that he can escape the whole boring affair and get a cup of goddamn coffee.
Inspired by the amazing cover art, by SunBusting.
Rated T for snarky language and witty banter.
The sequel to this story is now available.
Chapters (1)