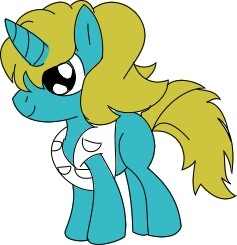 Raised to rated T and added the dark + sex tag for the most recent chapter/story arc.
Don't worry though, it's nothing smexy or anything. I don't write that kinda stuff. It's just Gadget beating up a kidnapper.

---
So I'm apparently a horse, for obvious reasons. But at the same time, I've got both a human-level intelligence, and control over what this show calls "magic".
it's weird, but for now, the biggest thing on my mind is going home.
I'm Gadget, the Smurf Lab Horse.
DANG KIDS, STOP CALLING ME SMURF HORSE.
Cover art by BleedingEquine.
Chapters (52)