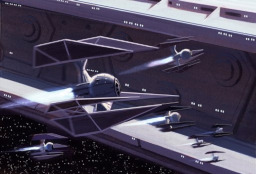 Source
(Star Wars/My little Pony: Friendship is Magic Crossover)
Riggs Dantion, an Imperial TIE-Defender Pilot of Shadow Squadron finds himself on an uncharted world after a horrible hyperspace malfunction. Forced to make planet fall and to make contact with the peaceful locals, this Imperial Commando will face new challenges. But, a dark shadow is starting to emerge from the horizon. One that will threaten this isolated world with the horrors of mindless conflict and endless war.
Will Riggs come out of his hard shell, look beyond his troubled past and help this world from ripping itself apart? Will he ever get his hyperdrive fixed and get off this strange rock? Will Riggs ever see his squadron again?
Only time will tell.
Chapters (13)