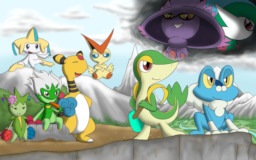 A year has passed with the defeat and cleansing of Dark Matter in the Pokemon world. Since that time the Expeditions society has been busy as ever to map and explore the respective dark corners of the world and to expand their overall view and understanding of their world, and maybe even chunk of their universe thanks to the recent appearance of a group of Islands and civilization south of the Water Continent.
With now a new means of traveling past their own world at their hands, and the added prospect of new means of explorations and discoveries all together. The Expeditions society and they new Islander Clients and friends are on a mission to explore one of these "NEW" world and see what wonders lay beyond its borers.
Though unfortunately, they aren't the only one finding interest in this new realm and the potentials it my offer. A group of...lets say bad Pokemon's are seeking in accomplishing something in this new world in which they failed in their own.
The poor clueless and somewhat powerless Natives of this world will eventually be dragged into a crises they have no much saying in as The member of the Expedition Society are trying to keep these Evil doers from causing to much damage to this world while also offering these Natives a much more broader view of their large and mysterious world while also contributing to the creation of certain things or relics, or the one or two new nations in the coming future.
The Pokemon's will have a major hand in shaping this new world, for both the good and the bad.
(Human tag only exist because if you have ever played a PMD game, you should why)
(This is somewhat of a Crossover between Pokemon Super Mystery Dungeon and of course MLP, though Ancient MLP before Equestria and all the other nations where even a thing. If you have played PSMD before then the characters and backstory mentioned here should be easily recognizable to you. Minus the original characters introduced of course.)
Chapters (8)