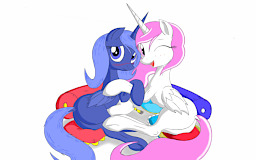 My name is Julius Corness one of the riches man's in the world, but sadly that is the only good point about me. My life was just full of empty feelings and thoughts sense my parents tragically died that one fateful day when i was just a little boy.
After the tragic death of my parents i was forced to manage and hold together a vast company at a very young age without any friends or Family members to help me.
I was alone for the most part of my life without any real positive views to my future. It was only with the help of my trusted butler and only friend who kept me from going into the wrong paths. For years i had to endure the stress and depressing feelings of never being anything else but a lonely and misunderstood young man who has lost all self confident and will about his life. All until that one fateful day when i made a desperate wish upon a shooting star i would find something that will change my fate, destiny and my whole life forever.
Authors Note: This story is basically the introduction and origin story of my possible series Tales of Fate.
After this there are probably going to be sequels (if I even get that far) to this one also in titled Tales of Fate but with a different secondary titled of course.
So yeah that's it, see you all in my stories :)
P.S that cover art is from me. :D
Chapters (20)