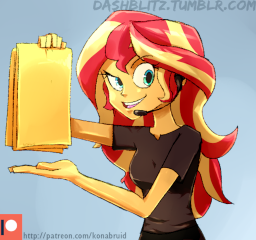 Source
"Here we go again." - Me to myself.
It's not every day when the dreamscape tears.
Luckily, with the power of Shamwow and Flex Tape (and a bit of marketing on Sunset Shimmer's part), Luna fixes the problem... all the problems...
Forever.
WARNINGS: Shamwow and Flex Tape worship, memes, Bob Ross references, possession by the deity of Flex Tape, dabbing, raw and unedited word barf, and bad fanfiction.
Image comes from dashblitz's tumblr. I came across it while meme-hunting.
Reviewed by The Reviewers' Cafe.
Chapters (2)