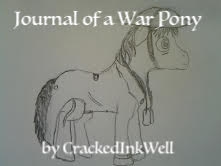 Introduction: The following Journal entries belong to James Tinwool of the 24th Royal Infantry, who disappeared the day before the Battle of the Somme in 1916. The journal was discovered months after the battle, but James himself was never found during the war. The dates in the journal correspond to before, during and after the battle, however, the journal states that he was nowhere near the battlefield. Some scholars believe that the dates between June 30th to September 5th is pure fantasy that he wrote to cope with his shell shock. James Tinwool himself, who was found years after he reappeared back in England, up to his death in 1948 always made the statement: "Everything that I've written in that journal is true. All of it." We leave this up to the reader as well as the listener to judge on the authenticity of this story.
Signed,
The United Kingdom Royal Historical Society.
I want to give a speceil thank you to Pokepony21 for the cover art and marking for the illustrations.
---
YouTube reading by Hunter Stasiuk
Chapters (15)