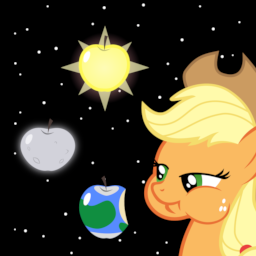 Source
Applejack is a steadfast, reliable pony. Loyal to her family and friends, always ready to take responsibility, she's someone who found her place in the world a long time ago. And she's happy with it.
But anything can change.
Now she's faced with a question: where's the place in the world for a pony who can accidentally turn a mountain inside out by thinking too hard?
---
Also available as a custom-tailored ebook because I'm some kind of psycho who thinks XML is "fun": EPUB, AZW3, MOBI
Chapters (6)