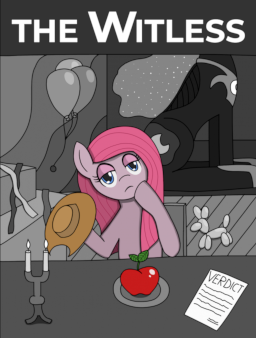 Decades passed after the banishment of the Sun Tyrant and the return of the rightful Sovereign of the Moon. Life resumed its course, even if not exactly in the same fashion, despite the hushed whispers of Solar rebels in plain sight and dark carriages stopping at ponies' homes at night.
Applejack herself knew or cared little about this, however. As long as she had her farm, her family, and—most importantly—her apples, all was well.
At least until she harvested the wrong tree, and met the wrong pony at the worst possible time...
---
Now with a review!
A ponyfic adaptation of the 1969 Hungarian cult-classic, a Tanú (The Witness). No prior knowledge is assumed or necessary. For more details, please see the blogpost.
Chapters (17)