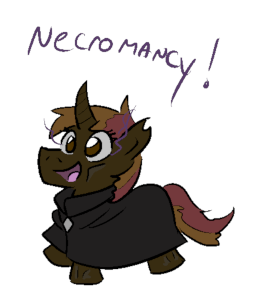 Source
Ever since he was a foal, Light Flow had always known he was destined to be a villain. But not just any villain: no, he wanted to be a Necromancer.
He had always been obsessed with reading fiction stories about the forbidden practice of Necromancy, and much to his delight, his cutie mark spelled his unavoidable destiny as a member of his oh-so revered profession!
But Necromancy is extremely taboo, and very illegal. Equestria hadn't even seen a real Necromancer since the times of the fabled Nightmare Moon.
Substituting joy for dread, Light Flow knew that he would have to hide his especially special talent at any cost. Whether in his daily, mundane life as a bookish nerd, or in the heat of extreme danger.
Good thing he doesn't have any friends, right?
-----------------------------------------------------------------------------------------------------------------------
I have deleted the old AN in favor of a new one.
Hello all! If you don't know me, then good! I'm a stranger, and it'd be weird if you knew who I am!
This is my first story, and basically my first experience writing something long-term. To that end, the beginning of the story is a bit rough, but I grew as a writer somewhat significantly as time went on, so it doesn't stay quite as bad!
The story itself has somewhat wavered from goal to goal as I argued with myself about what I wanted from it, though I eventually managed to settle. In its current state, it's mostly managed to stick to a strange blend of comedic tragedy interspersed sporadically with magical jargon and slice of life.
An added warning due to justified complaining: this experience can be very subdued. Not for the easily bored or angered. Personally, I tend to use Background Pony as a benchmark for a person's capability to withstand words.
Prepare yourself for lots of rants and barely coherent plot-threads!

Also i'm an idiot who probably tagged wrong.
Also i'm a bad person who stole a Jargon Scott image for the cover. (And then a wonderful person named Adin Terim edited it <3)
Chapters (56)