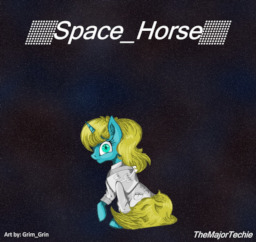 This story is a sequel to Lab Horse
---
I've overcome thieves, crazy name calling, hordes of children, and a mildly drunk professor. I've messed with hardened criminals for the sake of not being bored. I can shapeshift, levitate, and teleport any object I please, and I'm still a mere filly. I think. (I should probably look up the average lifespan of ponies, but there's probably gonna be huge differences.)
Sooo... yeah, surprisingly intelligent sapient tiny horse shenanigans aside, I'm pretty confident in my current quest to find my home.
BUT WHY THE HECK AM I IN A SPACE STATION?!
---
This sequel is gonna most likely be shorter than Lab Horse, considering as to how it's essentially a bridge story to fill the gap between Lab Horse and the next story. of which I'm still deciding the name of.

Cover art is a combination of the starfield I created for the original cover art, and a drawing of Gadget that Grim_Grin drew for me.
Chapters (28)