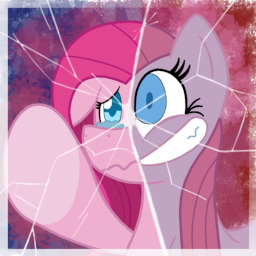 Source
No singing, no baking, no parties, no smiling.
The accident five years ago didn't just drive a wedge between Pinkie Pie and her friends, it stole her very identity. She had no choice but to move back home, to a hard life of farming rocks and managing her condition. Since then, she's built her family's farm into a successful corporation and the backwater town of Big Rock into a bustling city. But none of that gives her purpose.
When a new danger arises, threatening everything she's worked for an everypony she loves, will Pinkie be able to do what's necessary to save them? Or will her demons finally overtake her?
Note: The Crossover tag is a spoiler, but this story should be accessible to most readers. Comments that discuss the crossover and spoilers for the story without [ spoiler ] tags will be deleted!
5th place finalist in the May 2014 writeoff, "Beneath the Mask". Artwork by zanefir-dran!
Chapters (1)