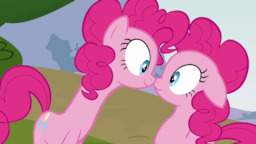 This story is a sequel to The Pinkie Paradox
---
You don't have to read Paradox to enjoy this story, but it would be helpful.
Uh, hi, I guess. I'm Ditzy. You can call me Derpy though, it's fine.

I guess I kinda got the idea for this thing—diary? Is this a diary? Anyways, I got the idea when my friend Pinkie Pie dropped off that book to my hospital room. Oh, I was in the hospital for a while. I probably should have mentioned that. I don't remember a ton of it though, 'cause I kinda got knocked out. Anyways, l'm trying to figure all of this stuff out.

Diane Pie, I'm going to find out what happened to you.
Chapters (2)