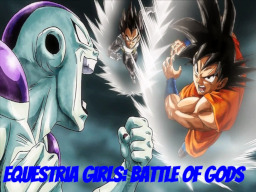 Warning: Spoilers from DBZ Battle of Gods, Ressurection 'F', Super, Xenoverse 1&2 and The Equestria Girls Movies
Goku has failed to stop Lord Beerus from destroying Earth, but during the blast him and Vegeta are sent through a dimensional rip and are sent to the Equestria Girls universe. Now they must adapt to their new home and the people that live their as they go against their biggest challenge they have ever faced.....High school.
Will Goku and Vegeta protect their new home from anymore threats or will it end up being destroyed like their last home along with their friends and family.
Set after the events of DBZ:Battle of Gods and during Equestria Girls: Rainbow Rocks
If a video is not working in any of the chapters let me know and I'll replace them.
I do not own MLP or DBZ
Saga 1: Battle of God's Saga
Saga 2: Man of Steel Saga
Saga 3: The Frieza Games Saga
Saga 4: Universe 6 Saga
Saga 5: Legend of the SSJ Rose Saga
Saga 6: Xenoverse Saga
Saga 7: Universe Survival Saga
Chapters (34)