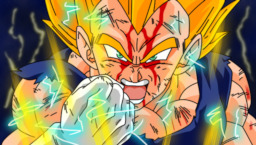 Source
Following directly after the events of Dragon Ball Fusion Reborn and pre season three finale in MLP:FiM.
---
After Vegeta's spirit faded into hell's oblivion, the sayian prince thought he was going to resume where he left off.
He was unprepared to what happened next.
---
Finally found the perfect pic. Thank you to the artist.
Chapters (10)