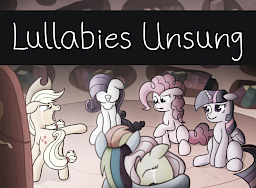 Source
At what should have been a routine doctor's visit, Applejack learns that she can never bear foals of her own. After an emotional breakdown, her friends do their best to calm her.
However, as the discussion develops, nopony is prepared for Twilight's revelation: the grand event which brought them together has left a hidden scar within each of them.
Tempers flare, relationships are strained, and the strength of their friendship is tested as each must come to terms with her newfound sterility.
Now on Equestria Daily
and Twilight's Library
---
Thanks to these wonderful people for all their help
Cover artist
MuffinExplosion
Editors:
NotMurphy
Georg
Ping111
ocalhoun
Prereadering and suggestions from:
Eakin
Distaff Pope
John Perry
Cartsbeforehorses
JaketheArmyGuy
Chapters (3)