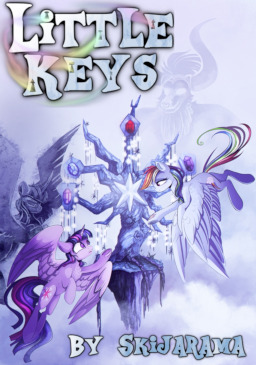 Source
This story is a sequel to Little Memories
---
After two long, painful years, Twilight Sparkle has finally regained her lost memories. Unfortunately, her remembrance has come at a terrible price...
Exiled from her home city of Canterlot and haunted by the whispering voice of Midnight Sparkle, Twilight has been tasked with opening a mysterious chest presented to her by the Tree of Harmony. To do this, she must prove to her friends - and to herself - that she is still worthy to wield the Element of Magic. But with her own mind threatening to swallow her whole at every turn, her task will be far from easy. If she is to succeed, Twilight must face her fears and come to terms with what she allowed herself to become, or fall prey to the shadow whispering in her ear...
Thankfully, she does not have to carry this burden alone.
---
Beware spoilers in the comments!
Edited by Chromio
The cover art was drawn by Hagalazka
This is the fifth story in the Little Flashes series. Reading through the previous stories is intensely encouraged to understand the events of this story.
Chapters (48)