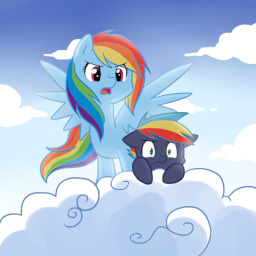 Source
Prism Bolt, the son of Rainbow Dash and Soarin, is destined for greatness. Everypony knows he will be an expert flier, just like his parents. This is not speculation, this is fact. There is just one tiny little problem.
He's afraid of heights.
When Rainbow Dash attempts to encourage her son, she will find that not everything in the world comes as easily to her as flying did.
Once again, original characters and cover art are the creations of the incredibly talented Kilala97. Check out her works and give her some love!
Thanks to Flint Sparks for pre reading!
Chapters (1)