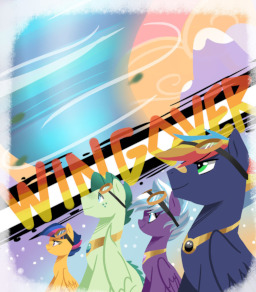 Source
This story is a sequel to In Her Shadow
---
It is amazing how time can change some ponies. Once, the very prospect of flying terrified Prism Bolt. Now, he soars through the sky, lording his skill over any pony he can. It's all in good fun, he doesn't mean anything by it.
Right?
When practicing for Tornado Day, a single poorly timed slip-up destroys any respect the citizens of Ponyville had for him. To earn it back is going to require hard work, something the pegasus has always dodged.
Perhaps all he needed was the right motivation.
Once again, all original characters contained herein are the property of Kilala97.
Massive amounts of editing and proofreading done by Prak.
Chapters (1)