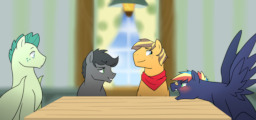 Source
This story is a sequel to A Little Push
---
He never seems to fit in. Some of them are dynamic and active, he is passive. Some of them are driven, he is lethargic. Some of them talk, he simply listens. Yet nopony doubts that he is a true friend.
Turquoise Blitz and Prism Bolt have a relationship, to the eyes of most ponies, roughly equivalent to what their mothers had. All it takes is one incident in their youth to form a bond with no words, no promises and total understanding.
And, as is often the case, the strongest bonds are christened in blood.
-----------------------------
This is my entry to Kilala97's Fun Fact Fanfic Contest.
Proofreading done by Imaginary Valued.
Chapters (1)