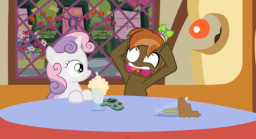 Sweetie Belle doesn't really understand why she decided to spend the day with the young colt. Most ponies saw him as a bit eccentric, but Sweetie sees something far more familiar and comforting in his odd-ball behavior.
Based on the Button's Adventures Pilot, produced by JanAnimations. I'd advise taking five minutes to watch it if you haven't seen it yet.
Now on Equestria Daily!
Chapters (1)