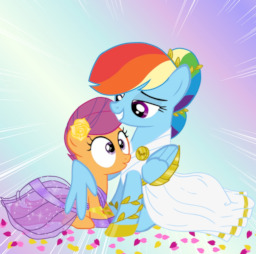 Scootaloo, by the Request of Rainbow Dash herself, has joined the bridal entourage for her wedding as a flower filly. Nothing would make her happier than to be there for her honarary sister, because on a day where Dash is showered in love and well wishes, you'd better bet Scootaloo will be there for it.
A Companion story to Warrior in White
Thank you Chazkopa for the wonderful idea/request
Coverart by me check out my Deviantart Page!
Chapters (2)