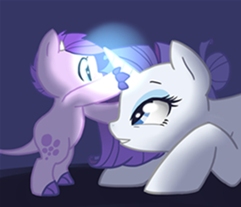 Claire, the dracony daughter of Rarity and Spike has always been known as a strong fearless female. But it wasn't always like that, there was once a time where she did indeed have fears, and they almost consumed her. But one night, while she was cowering in fear from the monsters that were born from her own imagination. Her mother entered her room and taught her the most important lesson of her life.
Another one-shot inspired by the artwork of Kilala97.
Pre-read and edited by Brownie A La Carte
Spike is of legal age in this story.
Chapters (1)