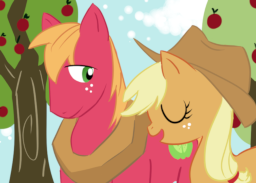 Source
Applejack gets an unwelcome visit from the Equestrian Revenue Service. Handed a large tax bill and limited time to pay, Applejack comes up with a creative use of the farm's biggest asset.
No, not the apple trees.
Why Big Macintosh of course.
Can Big Mac save Apple Bloom's college fund?
Read and find out.
Now with dramatic readings!
Reading 1
and
Reading 2
Featured on Equestria Daily 8-25-2012
Credit for the cover art goes to cassie-chan55
Chapters (1)