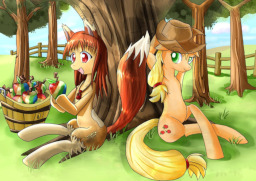 Source
The Apple Family decides to plant wheat this year and end up with a surprise house guest.
How will the Apple clan handle having a wolf in their home? Let alone, a Wise Wolf that's obsessed with sweet, succulent, juicy apples?
-------
Yep, Spice and Wolf crossover. Wish me luck I'm gonna need it. If you like it, tell me why. If you don't like it, tell me why.
Artist for image is roshichenAll copyrights belong to their respective owners.
Feature Box Achivement Unlocked on the 23rd of December, 2012!
Chapters (13)